Exterminating Angel Press Believes…
…it's time to take a new approach. Time to take our own lives back from the intermediary 'experts.' Time to change the old, tired stories for new, living ones. Time to look at our world in a different way. Whether they're about cooking, comic books, or Chinese goddesses—about fairy tales or poems of everyday life— our books do that. It's reveling in our everyday life. Making a living, not a killing. Reorganizing our lives on a human scale. Dreaming how we want our lives and our world to be. We're named for the classic film by Luis Buñuel. And like that film, we say, "Just open the door."
Our Books. Click on images for more information.
Our Latest Release:
THE SUPERGIRLS: Fashion, Feminism, Fantasy, and the History of Comic Book Heroines (Revised and Updated Edition)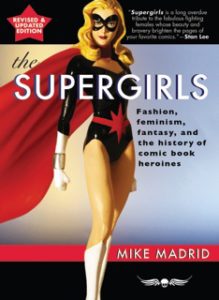 By Mike Madrid.

The original THE SUPERGIRLS was an instant classic. Now here it is in a completely up-to-date, revised edition. A must for any lover of superheroines and the comics they bring to life.

"The affection the author holds for these characters is infection … An essential read for pop-culture enthusiasts, feminists, comic-book readers, and social justice warriors." —Kirkus Reviews

"With the explosion of breakout new female heroes, huge changes for fan favorites, and major icons heading from page to screen, there's never been a better time to soar with this expanded version of The Supergirls … Madrid remains the coolest Professor of comics history."—WILL HARRIS, Comicsblend.com

"The Supergirls …  is sharp and lively—and just obsessive enough about women who wear capes and boots to be cool but not creepy. The guy clearly loves this stuff … A-"—Entertainment Weekly

"Supergirls is a long overdue tribute to the fabulous fighting females whose beauty and bravery brighten the pages of your favorite comics."—STAN LEE
Available everywhere superheroes are welcome, paperback and eBook.
ISBN: 978-1-935259-33-6
eBook ISBN: 978-1-935259-33-6