Our Events.
Jam Today: A Diary of Cooking With What You've Got (revised and updated edition)
by Tod Davies
"Just my kind of book. . . . In addition to some great meals made to satisfy desires, needs, whims or simply to make use of what's at hand, Jam Today is a complete pleasure to read."—Deborah Madison, author of The New Vegetarian Cooking for Everyone and In My Kitchen
"The spirit of M.F.K. Fisher surely hovers over this book, amused and beguiled by a cook whose prose has the same artful composure, and whose cooking possesses a similar innate sense of style." —John Thorne, author of Serious Pig: An American Cook in Search of His Roots and Mouth Wide Open
Warm, conversational, and exquisitely practical, Tod Davies returns to the Jam Today series in an update of her original cult classic cookbook memoir. Featuring all new techniques and recipes—from how to brine just about everything to weird stuff, including Chinese Takeout Rice Pudding and Millennial Bowl cuisine—Jam Today continues to provide all the ingredients for daily feeding of mind, body, and soul.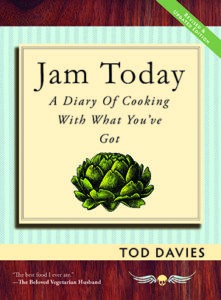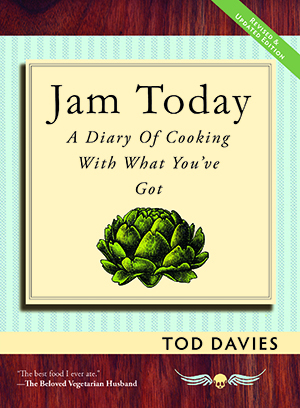 MEET AUTHOR TOD DAVIES
(and watch her cook with what she's got!)

Denver, CO:
Cooking With What BookBar's Got, with author Tod Davies
BookBar is excited to welcome back author Tod Davies, on the occasion of the publication of an updated edition of her cult classic food memoir: Jam Today: A Diary of Cooking With What You've Got. The event takes place on Friday, October 13th, at 7 pm, at BookBar, 4280 Tennyson Street, Denver, 80212, and is free and open to the public. To celebrate, BookBar will present Tod with a bag of mystery ingredients. She will walk the tightrope and 'cook with what BookBar's got'. Hilarity and good food will result. And of course, BookBar will have books and wine to offer for sale.
Always lively, BookBar events are a Denver treat—and Tod never fails to add her own seasoning to what promises to be a lively and tasty evening on Tennyson.
Tod Davies the author of the Jam Today food memoir series: Jam Today: A Diary of Cooking With What You've Got, and Jam Today Too: The Revolution Will Not Be Catered, as well as the three novels in The History of Arcadia fairy tale series: Snotty Saves the Day, Lily the Silent, and The Lizard Princess.
For further information contact: Russ Brakefield (Events coordinator) russ@bookbardenver.com (303) 284-0194
ASHLAND, OR:
Tod will cook with what she's got, with Sarah Lemon, food columnist for the Medford Mail Tribune, at the Ashland Literary Arts Festival, Saturday, October 28th, at Hannon Library, on the Southern University campus, in Ashland, Oregon. "Stories on the edge!"
PORTLAND, OR:
Powell's Books on Hawthorne, Thursday, November 9 @ 7:30pm
If you'd like to have an event at your local bookstore, please email Tod.