Our Events.
Divas, Dames & Daredevils: Lost Heroines of Golden Age Comics
compiled and annotated by Mike Madrid
with a Foreword by Maria Elena Buszek, PhD & 28 fully-illustrated Golden Age comics
*Certified Cool™ in PREVIEWS: The Comic Shop's Catalog*
*BUST Magazine "Lit Pick" Recommendation*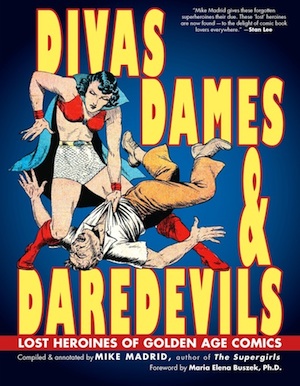 MEET AUTHOR MIKE MADRID
SAN FRANCISCO, CA:
Cartoon Art Museum (launch party), Thursday, October 17 @ 5:00pm – 8:00pm
http://cartoonart.org/2013/10/divas-dames-and-daredevils-with-mike-madrid/
Green Arcade, Thursday, November 7 @ 7:00pm
http://www.thegreenarcade.com/
San Francisco Main Library (with Professor Louis Schubert of City College of San Francisco), Thursday, November 21 @ 6:30pm – 8:00pm
http://sfpl.org/index.php?pg=1014527701
LOS ANGELES, CA:
Skylight Books, Saturday, November 16 @ 5:00pm
http://www.skylightbooks.com/event/mike-madrid-reads-divas-dames-daredevils
SEATTLE, WA:
GeekGirlCon '13, Saturday, October 19 @ 12:30pm
http://www.geekgirlcon.com/ggc13saturday/
http://www.geekgirlcon.com/did-you-love-mike-madrid-last-year/
PORTLAND, OR:
Powell's Books on Hawthorne, Monday, October 21 @ 7:30pm
http://www.powells.com/events/5577/
For a complete list of prior events, please visit our Facebook Events page.
If you'd like to have an event at your local bookstore, please email Tod.