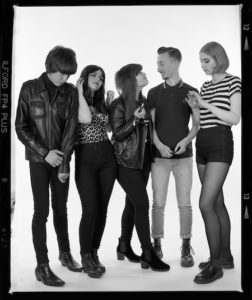 MY GENERATION: LEEDS NEW MODERNISTS, by Casey Orr.
The photographer on how everything old is new again…
HOPE I GET OLD BEFORE I DIE, by Boff Whalley.
The rocker on the surprises of the past leading to the future, which is "about to shape-shift into something celebratory and joyous, something that swaggers and brags, something jubilant and good-looking." We're up for that…
YOU SHOULD GO SEE A PUPPET SHOW, by Bruce E. R. Thompson.
The puppet-master on why everything old should be new again…
FOOD: THE FUTURE IS BEHIND US, by Josh Sutton.
The food historian points a way forward…
WHAT'S TO ADMIRE ABOUT IRANIAN WOMEN, by Brian Griffith.
The historian quotes:"My grandmother could shoot an apple in half from the back of a galloping horse, and these people are surprised that after all these years we know how to drive cars?"
A TALE OF REINCARNATION, by Simon Widdop.
The poet knows the future depends on the present as well as the past…
CLONES AT THE BEACH, by Charles S. Kraszewski.
As poetry tells us, when it comes to the future, be careful what you wish for…
WALTZING MATHILDE, by Rose Jermusyk.
Even the future of a toy is rooted in its past…
WHAT LIGHT IS LIKE, by Marissa Bell Toffoli.
"Assume everything has wings, and flight won't feel as much like loss…"
WONDERLAND, by Clarinda Harriss.
The past, the present, and the future are too much at once...
CRACKS, CREVICES, AND SHADOWS, by David D. Horowitz.
Don't forget the warning about forgetting…
PASTEL POSTCARDS, by Guinotte Wise.
And there can be too much remembering…
THE TOD BLOG is really big on looking at the past to look to the future…THE ARCADIA PROJECT  is big on those attempts, too…and JAM TODAY can't help a love of sausage, especially when stressed…

This issue's picture contributed by Casey Orr…check out her photographic history of the future at caseyorr.com.
Next issue is 1 April, and it's the SPRING 2017: IF NOT THEN, NOW issue…contributions by 1 March, please…
Want to add something to the conversation? Get on the EAP mailing list? Email us…
got poems? email Marissa. got anything else? email Tod.