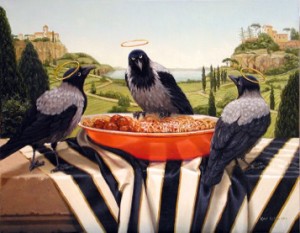 THREE DOGS AND A BRANCH: THE STORY OF STORY, by Tim J. Myers.
The wonder of story, from one of our favorite storytellers…
PROOF OF THE CONTINUITY OF CONSCIOUSNESS AFTER DEATH?, by Ronnie Pontiac.
A warning, here, not to shut out any possibility of wonder……
WONDERBOUND, by Erin Trampler Bell.
For that door of imagination goes through what looked to be a blank wall …
I WONDER ABOUT LOLA, by Marie Davis and Margaret Hultz.
All that's needed is to look at the story from a different angle…
MISS UNIVERSE, by Tim J. Myers.
Speaking of stories from a different angle, how are those aliens feeling about our stories? …
LOST TRADEMARK, by R.C. Savoie.
Or those of us born to be bought and sold to…
PRACTICAL DREAMER, by David D. Horowitz.
Acts of wonder have a down to earth utility, after all…
COUNTRY OF NIGHT, by Marissa Bell Toffoli.
Wondering what it would be like to let go…
THE WHOLE WORLD IN HIS HANDS, by Robert Markland Smith.
The wonder of it is, no matter how late we are, we're always right on time…
Wiersz o tym, że nie przystąpiłem do komunii świętej a siedzę tu na pustej ławce z bratem Jezusem przy boku, by Charles S. Kraszewski.
Wonder is the same in Polish…
A POEM ABOUT NOT GOING TO COMMUNION, by Charles S. Kraszewski.
In case you were wondering, here it is in English, too.

THE TOD BLOG can't help but wonder, and wonders if you wonder too…and JAM TODAY is infatuated with the wonder of the tomato (and you should be, too)…
This issue's picture contributed by the truly marvelous KAY RITTER…to explore her world more thoroughly, go to kayritter.com…

Next issue is 1 January, and it's the Winter 2016: STORY ANIMAL issue…contributions by 1 December, please…
Want to add something to the conversation? Get on the EAP mailing list? Email us…
got poems? email Marissa. got anything else? email Tod.