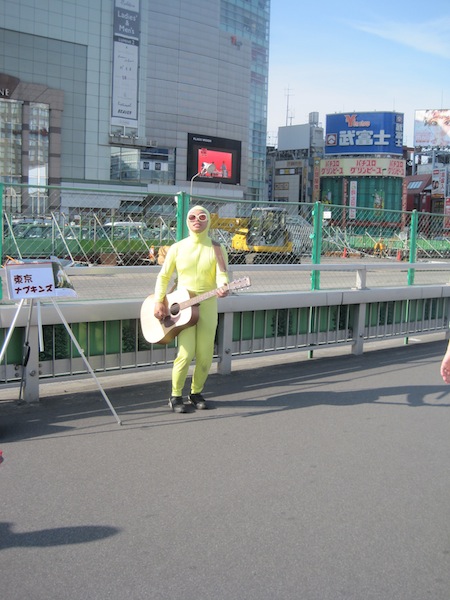 ANGER IS AN ENERGY, by Boff Whalley.
A founding member of Chumbawamba tells us what lyrics gave him a first grab at liberty…
POWER TO THE NAMIBIAN PEOPLE'S WILDLIFE, by Brian Griffith.
There ARE other ways to find a liberating relationship with the wild…
DISASSEMBLING FRANKENSTEIN, by Kelsey Liu.
EAP's youngest permanent contributor goes a little wild herself…
FREEDOM'S LONGING, by Erin Trampler Bell.
We might be mistaken about what we imagine to be liberty…
LIBERTY, by Marie Davis & Margaret Hultz.
And speaking of freedom, be careful what you wish for…
HAVANA, by Elizabeth Hanly.
Freedom of a strange and beautiful kind exists in the dance between the worlds…
THE TROUBLE WITH FREEDOM, by Peter Dudnik.
No kidding…
SALMON, by David D. Horowitz.
But freedom to express, ah, that's the finest freedom of all…
BORACHO BANDITO, by Robert Markland Smith.
And maybe the Holy Ghost has not fled after all…
THE LIBERATION, by Robin Wyatt Dunn.
Even in extremity, you can turn a strange corner and find liberation waiting there…
SKYLINE, by Marissa Bell Toffoli.
Or look:  right where the earth meets the sky…
 THE TOD BLOG marches into the new year accompanied by sackbuts and trumpets (anyone who knows how to play the sackbut, please apply to Tod)…while JAM TODAY puts in a call to some EAP contributors in Kentucky and finds…curry….
This issue's picture is by EAP's own creative director MIKE MADRID…

Our special thanks to this issue's guest editor, Kenneth Womack…
Next issue is 1 May, and it's the Spring 2014: DISASTERS NATURAL AND UN issue…with guest editing team KATE TALLMAN & MARK TALLMAN (she's one of our favorite things in the world: a librarian)…contributions by 1 April, please…
Want to add something to the conversation? Get on the EAP mailing list?  Email us…

got popular culture?email Mike. got poems? email Marissa. got anything else? email Tod.