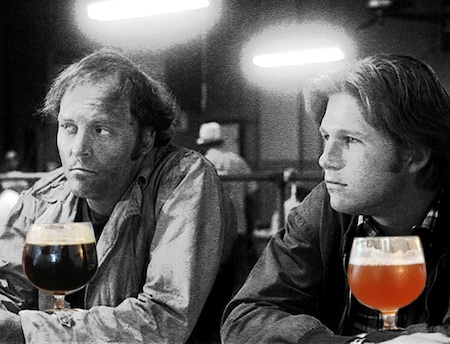 CHANGING THE WORLD ONE GREAT BEER AND MOVIE AT A TIME, by Pablo Kjolseth.
This issue's guest editor makes a strong case for the idea that enjoying and engaging is the best way a lone human being can change the world, and no, we didn't think your choice of theme was the cultural equivalent of a whoopee cushion, Pablo, really we didn't…
THE OSCARS, by Terese Svoboda.
Poetic fiction would be the first to tell you that enjoying cultural illusions is a different matter than thinking you're gonna like living them…
NOBLE FAILURES ON SCREEN: LESSONS FROM CINEMATIC DISASTERS, by John Compton.
Sometimes mistakes are what make up our world, and beer helps with that, don't you think?…
ONE NIGHT AT SUNFLOWER CINEMAS, by Julie Prince.
Beer, movies, teenage summer, and armed robbery, now that's a story…
DRINKING BUDDIES, by David D. Horowitz…
We know it's hard to believe, but not everybody likes beer, strange that…
THE MARQUIS DE SADE DOESN'T LIVE HERE ANYMORE, by Robert Markland Smith.
Of course, there are always those who do, and sometimes even overdo…
PAIRINGS, by Marissa Bell Toffoli.
The poet sees the romance in beer and movies, aaahhh…
GET A RAKE: BEER AND GARDENING, by Debbie Naples.
Speaking of beer (we were, weren't we?), EAP's gardening expert has moved on from that brew (and her brief Wall Street career) onto a whole other bootleg list of spirit-filled plants, and a more satisfying spirit-filled gardening life…
THE TOD BLOG is delighted with beer, movies, books, libraries, and, most of all, the people who love them…and JAM TODAY  is embarrassed about its…er…mistaken use of the dried habanero, but oh well, as long as you have friends who love you, it's all good, yes?
This issue's picture is by the incredibly talented Boulder artist and film buff John Adams…

Our special thanks to this issue's guest editor, Pablo Kjolseth, head of CU Boulder's International Film Series, and a valued customer at brewpubs and film festivals everywhere…
Next issue is 1 January, and it's the Winter 2015: FIRSTS issue…contributions by 1 December, please…and speaking of FIRSTS, warm congratulations to EAP Poetry Editor Marissa Bell Toffoli on the birth of her son Raphael….
Want to add something to the conversation? Get on the EAP mailing list?  Email us…

got popular culture?email Mike. got poems? email Marissa. got anything else? email Tod.