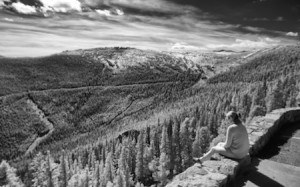 WHAT IS 'VISIONARY FICTION'?: AN INTERVIEW WITH WALIDAH IMARISHA.
Another world is not just possible, it's imperative, don't you think?…
WHY DO I LOVE FANTASY?, by Tod Davies.
And stories make up the world now and in the future, agreed?…
GRIEF: WHAT'S THE BEST I CAN DO? by Ellen Morris Prewitt.
Stories about Death…
HOW GOOD CAN IT GET?, by Brian Griffith.
Stories about Life…
THE QUESTION & THE ANSWER, by Rose Jermusyk.
What are we so afraid of?…
IN THE CAFE OF THE NATIONAL ARCHIVES, KEW, by Charles Kraszewski.
"Why does she score/so low on the archive researcher's slate?"…
PAPER LANTERNS, by Marissa Bell Toffoli.
"Why do we dust it away?"…
THE CARDINAL, by Robert Markland Smith.
"What were you doing at the time your pain started?"…
TESTING FOR WISDOM, NOT PRAYING FOR A MESSIAH, by David D. Horowitz.
And finally, "Why 'courage'?"...

THE TOD BLOG knows one question leads to another, next thing you know, there's a  transformation…we hope so, anyway…and JAM TODAY knows that even in a marriage, another world is possible…

This issue's picture contributed by EAP house photographer, Alex Cox…

Next issue is 1 July, and it's the SUMMER 2016: I WANT THE WORLD issue…contributions by 1 June, please…
Want to add something to the conversation? Get on the EAP mailing list? Email us…
got poems? email Marissa. got anything else? email Tod.