Exterminating Angel Press Believes…
…it's time to take a new approach. Time to take our own lives back from the intermediary 'experts.' Time to change the old, tired stories for new, living ones. Time to look at our world in a different way. Whether they're about cooking, comic books, or Chinese goddesses—about fairy tales or poems of everyday life— our books do that. It's reveling in our everyday life. Making a living, not a killing. Reorganizing our lives on a human scale. Dreaming how we want our lives and our world to be. We're named for the classic film by Luis Buñuel. And like that film, we say, "Just open the door."
Our Books. Click on images for more information.
Our Latest Release:
JAM TODAY: A DIARY OF COOKING WITH WHAT YOU'VE GOT(Revised and Updated Edition)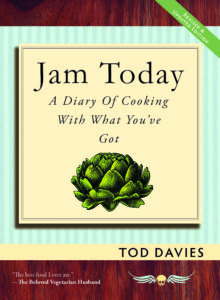 By Tod Davies.

Warm, conversational, and exquisitely practical, Tod Davies returns to the Jam Today series in an update of her original cult classic cookbook memoir. Featuring all new techniques and recipes—from how to brine just about everything to weird stuff, including Chinese Takeout Rice Pudding and Millennial Bowl cuisine—Jam Today continues to provide all the ingredients for daily feeding of mind, body, and soul.
"Just my kind of book. . . . In addition to some great meals made to satisfy desires, needs, whims or simply to make use of what's at hand, Jam Today is a complete pleasure to read."
—Deborah Madison, author of The New Vegetarian Cooking for Everyone and In My Kitchen
"The spirit of M.F.K. Fisher surely hovers over this book, amused and beguiled by a cook whose prose has the same artful composure, and whose cooking possesses a similar innate sense of style." —John Thorne, author of Serious Pig: An American Cook in Search of His Roots and Mouth Wide Open
"Jam Today, whose title is culled from a line in one of Lewis Carroll's Alice in Wonderland books, isn't so much a cookbook as it is ruminations on food preparation and living right." —Cascadia Weekly
"Original and lyrical. . . . By sharing the specific and intimate portraits and interpretations of her daily meals, their preparation, and the people and life circumstances surrounding them, Davies allows the juxtapositions to themselves reveal some of the bigger messages of a life well-lived and shared." —Oregonian
"Tod's spirit of intentionality is inspiring. That's the key to keeping calm in difficult times, I think, being intentional, living deliberately, sharing love. I wish I lived closer because I'd invite her over for a meal — and you'll want to do that too, when you're done reading this delightful book."—Deb Baker, BookConscious
Available everywhere, in paperback and eBook.
ISBN: 978-1-935259-36-7
eBook ISBN: 978-1-935259-37-4