Exterminating Angel Press Believes…
…it's time to take a new approach. Time to take our own lives back from the intermediary 'experts.' Time to change the old, tired stories for new, living ones. Time to look at our world in a different way. Whether they're about cooking, comic books, or Chinese goddesses—about fairy tales or poems of everyday life— our books do that. It's reveling in our everyday life. Making a living, not a killing. Reorganizing our lives on a human scale. Dreaming how we want our lives and our world to be. We're named for the classic film by Luis Buñuel. And like that film, we say, "Just open the door."
Our Books. Click on images for more information.
Our Latest Release:
GREENBEARD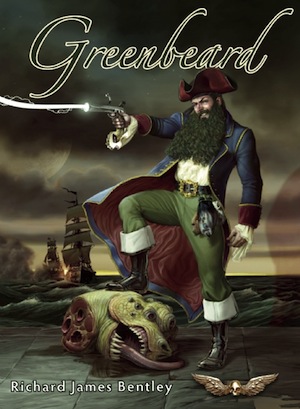 By Richard James Bentley.
"The situations are cleverly contrived, the characters likeable, and the over-the-top premise worked out in careful detail . . . [Greenbeard] keeps moving along and pulling the reader with it." —Publishers Weekly
Ahoy, mateys! Jump aboard Greenbeard for a voyage to the seven seas…and beyond…
And congratulations to the Good Reads and Library Thing Early Reviewers winners of advance copies of Greenbeard. We can't wait to hear what you think!