Exterminating Angel Press Believes…
…it's time to take a new approach. Time to take our own lives back from the intermediary 'experts.' Time to change the old, tired stories for new, living ones. Time to look at our world in a different way. Whether they're about cooking, comic books, or Chinese goddesses—about fairy tales or poems of everyday life— our books do that. It's reveling in our everyday life. Making a living, not a killing. Reorganizing our lives on a human scale. Dreaming how we want our lives and our world to be. We're named for the classic film by Luis Buñuel. And like that film, we say, "Just open the door."
Our Books. Click on images for more information.
Our Latest Release:
DIVAS, DAMES & DAREDEVILS: Lost Heroines of Golden Age Comics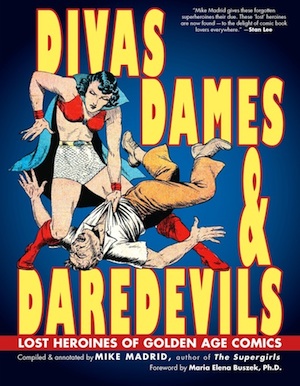 By Mike Madrid.
"Mike Madrid gives these forgotten superheroines their due. These 'lost' heroines are now found—to the delight of comic book lovers everywhere."
—STAN LEE
"Essential reading for anyone interested in the history of how women have been portrayed in comics." —Comics Worth Reading
"Provide[s] fantastic documentation of how many female characters were created during this era—some with surprisingly progressive personalities and stories to boot. The author's passion for heroines and fascination with those who have been left behind are palpable. . . . Wholly enjoyable as an impressive, detailed collection shining a light on heroines long ago neglected." —Publishers Weekly
And see the fantastic line-up of heroines… 
Congratulations to all the Goodreads winners of copies of Divas, Dames & Daredevils! We look forward to reading what you think about your reading…
And Congratulations to all the LibraryThing Early Reviewers winners, too!