Exterminating Angel Press Believes…
…it's time to take a new approach. Time to take our own lives back from the intermediary 'experts.' Time to change the old, tired stories for new, living ones. Time to look at our world in a different way. Whether they're about cooking, comic books, or Chinese goddesses—about fairy tales or poems of everyday life— our books do that. It's reveling in our everyday life. Making a living, not a killing. Reorganizing our lives on a human scale. Dreaming how we want our lives and our world to be. We're named for the classic film by Luis Buñuel. And like that film, we say, "Just open the door."
Our Books. Click on images for more information.
Our Latest Release:
REPORT TO MEGALOPOLIS
or THE POST-MODERN PROMETHEUS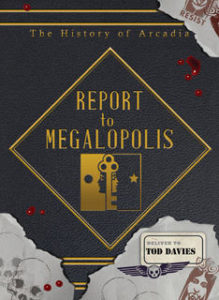 By Tod Davies.

"A philosophical fable. . . . As much Faust as Frankenstein." —Kirkus Reviews
"You can read Report to Megalopolis without having read the other books in the History of Arcadia (although why wouldn't you?)." —Deb Baker, BookConscious
Readers won't need to have read any of the other The History of Arcadia books to become engrossed in the drama of Aspern Grayling, whose obsession with creating a new life form—in the person of ruthless adventurer Pavo Vale—could destroy his whole world. A compelling descendant of Mary Shelley's Frankenstein, this is a tale of a man bent on conquest, and of an adversary that may yet defeat him: the ghost of the Arcadian Devindra Vale, the only woman he has ever loved.
"Look inside this world and find wonder."—KATE BERNHEIMER, editor of My Mother She Killed Me, My Father He Ate Me and Fairy Tale Review
"…it's a simple tale, but as with all of Davies' stories, it's more complex than it seems. The message of resistance comes through loud and clear."—Sects and Violence
"An allusive and face-paced tale. Report to Megalopolis blends the lyricism of fairy tales with knife-in-the-ribs social criticism, a dash of humor, and plenty of gruesome twists." —Edwin Battistella, Editor, Literary Ashland, and author of Sorry About That: The Language of Public Apology
"Impressive. . . . Report to Megalopolis creates and makes believable its imaginative world, a world that is both original and rooted in classical works of fantasy. With its lavish settings and dramatic events, it plays in a quite novel way with the old myths/fairy stories of orphans, muddled generations and incestuous couplings." —Janet Todd, author of A Man of Genius 
"Spend a day in Megalopolis with Aspern Grayling. You'll be captivated by his story—fascinating and unflinching in its depiction of human nature and our potential for breathtaking creation and unbridled destruction. Davies has imagined a future world populated with characters who charm and compel in equal measure." —Gene Hayworth, Director of Social Sciences, University Libraries at the University of Colorado, and Owner, Inkberry Books (Niwot, Colorado)"
On TheNextBestBookBlog, Report to Megalopolis takes the p. 69 challenge: how much or little does that page illustrate the book? Turns out, quite a bit. Hear Tod read it in the audio, or do it the old-fashioned way, and read for yourself…
Available everywhere, in paperback and eBook.
ISBN: 978-1-935259-31-2
eBook ISBN: 978-1-935259-32-9