Exterminating Angel Press Believes…
…it's time to take a new approach. Time to take our own lives back from the intermediary 'experts.' Time to change the old, tired stories for new, living ones. Time to look at our world in a different way. Whether they're about cooking, comic books, or Chinese goddesses—about fairy tales or poems of everyday life— our books do that. It's reveling in our everyday life. Making a living, not a killing. Reorganizing our lives on a human scale. Dreaming how we want our lives and our world to be. We're named for the classic film by Luis Buñuel. And like that film, we say, "Just open the door."
Our Books. Click on images for more information.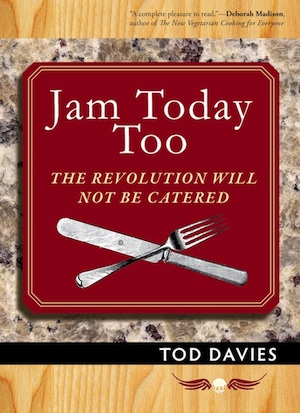 By Tod Davies.
"Shift-causing in its practicality. . . . What an original voice Davies is. She's all attitude. Jam Today Too is a treatise on how to develop a sane, honest, joyful relationship with food and cooking (and good red wine)." —ForeWord Reviews
"Jam Today Too is about cooking in real life…and all the other ins and outs of eating and cooking while living. It's a book to be savored, not read all at once, though you'll be sorely tempted." —Deborah Madison, author of The New Vegetarian Cooking for Everyone
"Real, practical advice about how to cook with what you have, wherever your kitchen may be. Laughing with Tod at her loves and disasters will make you laugh at your own, and keep cooking." —Anna Thomas, author of Love Soup and The New Vegetarian Epicure
"Chatty, wise, and terrifically useful, Tod Davies' second serving of Jam makes disaster delicious and success the stuff of everyday life. What a treat to read and eat." —Kate Lebo, author of A Commonplace Book of Pie
Featuring advice for omnivores and vegetarians alike about how to eat (and what to prepare) to survive natural disasters, cross-country moves, bereavement, holidays-gone-wrong, and even a spontaneous picnic, Jam Today Too provides all the ingredients for daily feeding of mind, body, and soul.