by Danbert Nobacon
illustrated by Alex Cox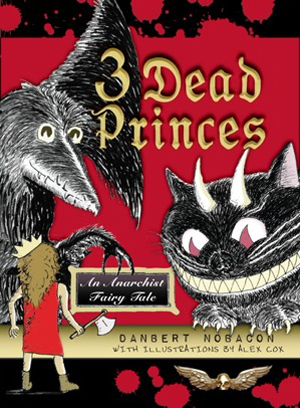 "It definitely rocks! I ought to know."
—Iggy Pop
"3 Dead Princes follows the fairy tale narrative with personal challenges, serious battle preparation, and more brave moments than the movie Brave. But every time you think you have it all figured out, Nobacon throws a curve ball, forcing the reader to rethink what a fairy tale can be . . . while also posing a lot of subtle questions about society, culture, and evolution. . . . With Alex Cox's illustrations along to spice things up even more, it's a very enjoyable, and unorthodox, read."—COLLEEN MONDOR, Bookslut
"An alternative fairy tale for anarchist/punk/fellow traveler parents to read with their kids."—Jessica Mills, author of My Mother Wears Combat Boots
"Parents looking for a book for a middle-grader would be hard pressed to find a more sophisticated yet accessible story. Yes, there is a bit of swearing in it, and yes, there are some fairly grown-up themes introduced, but as a springboard for sensible and informed discussion with youngsters about how we live and how we might live, it is hard to think of a better book…. Even as an adult reader, the story is interesting and intelligent enough for you to find it worth your while."—Graham Storrs | The New York Journal of Books 
"At its best, the story inhabits that delicate balance between sincerity and self-conscious mockery of fairy tale tropes…" Publishers Weekly 
"Nobacon has created a descriptive, post apocalyptic world that adults and children will relish exploring together. Of course, Alex Cox's illustrations of great hairy beasties and freaky people add to the tale." Bonnie Kenaz-Mara | Chicago Parent
 About 3 Dead Princes:
Princess Stormy lives in a homey castle with her family and a Fool. When an unhappy neighboring kingdom decides to invade, Stormy must go on a quest, meeting Giant Cats, Mermangels, Giggle Monkeys, a Gricklegrack, and Flying Lizards  on the way. Oh, and she kills three princes. But that's by accident, and anyway it's their own fault.
 About the author and illustrator:
Danbert Nobacon, singer, songwriter, comedian, and 'freak music legend,' was a founding member of the anarchist punk rock band Chumbawamba. He loves children and animals. This is his first book.
Alex Cox is better known for his filmmaking skills. He loves monsters.
$13/206 pages
Trade Paperback Original ISBN: 978-1-935259-06-0/eBook ISBN: 978-1-935259-10-7
Media Contact: Molly Mikolowski, (612) 728-1692, molly.mikolowski@gmail.com
Distributed to the trade by Consortium Book Sales and Distribution: 1-800-283-3572