Brian Griffith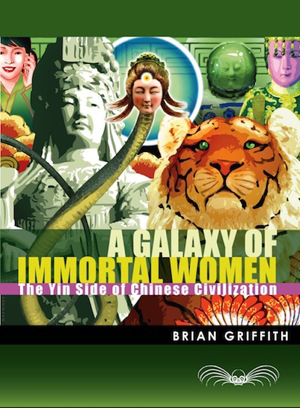 ForeWord Reviews Mother's Day Staff Pick: "Books Mom Will Love"
The goddess tradition remakes China and the world
"This is a very ambitious and timely book, a book that many historians, literary theorists and story tellers who care about China and its "Other Half of the Sky" want to write, but Brian Griffith did it first, with such scope, ease and fun."  —WANG PING, author of The Last Communist Virgin and Aching for Beauty: Footbinding in China
"This book is a most engaging and entertaining read, and the depth of its scholarship is astounding. Griffith vividly describes the counterculture of Chinese goddesses, shows that their fascinating stories are alive and active today, and points us toward a more inclusive and caring partnership future."            —RIANE EISLER, author of The Real Wealth of Nations: Creating a Caring Economics and The Chalice and the Blade: Our History, Our Future
Touching on the whole story of China—from Neolithic villages to a globalized Shanghai—this book ties mythology, archaeology, history, religion, folklore, literature, and journalism into a millennia-spanning story about how Chinese women—and their goddess traditions—fostered a counterculture that flourishes and grows stronger every day.
As Brian Griffith charts the stories of China's founding mothers, shamanesses, goddesses, and ordinary heroines, he also explores the largely untold story of women's contributions to cultural life in the world's biggest society. Like Nicholas Kristof and Sheryl WuDunn's Half the Sky, this book provides inspiration for all global citizens.
Brian Griffith on the inspiration behind A Galaxy of Immortal Women
I started writing this book in the mid-'90s, after reading Marija Gimbutas's books on the civilization of the goddess in Old Europe. Her research opened up an expanded vista into the prehistoric past, to an age before warlords, roughly from the 9000s to 3000s BCE. Gimbutas also showed how these early cultures were destroyed and erased from memory by waves of conquerors from the harsher lands of Inner Asia.
Having lived in Africa and India, I realized that roughly the same thing had happened in those areas as well. The most ancient traditions honored the power to nurture life. Only later were military empires founded on the power to destroy it. I wanted to explore how this story unfolded from Africa to China. And China seemed especially interesting. Because in China, it seemed that the age of the goddess never died. The earliest cultures and values lived on as a counterculture under dominator rulers. And this counterculture was largely a woman's culture, featuring thousands of female leaders, saints, and popular goddesses.
In 1995 I found a marvelous book by a team of Chinese scholars, called The Chalice and the Blade in Chinese History. The authors called themselves the Chinese Partnership Studies Group, and they showed in study after study how early village cultures were conquered, yet survived in many forms through the centuries. The Chinese Partnership Studies group did inspiring work, but their translated writing was difficult for Western readers. I wanted to write this story in a way that would be accessible and entertaining to Western audiences, and have poked away at that for fifteen years.
During that time, I realized that the countercultures of Chinese women could be the world's greatest living links to the early traditions we mythologize as an original paradise. And the rise of these women's dreams or values in modern China could be a force that changes the world.
"It is a great pleasure to read A Galaxy of Immortal Women: The Yin Side of Chinese Civilization—especially to know that our book was its author's inspiration. Now a wonderful book on the same subject appears that should be an added treasure for our audience. I really hope, by virtue of this book, that the yin side of Chinese civilization will be fully known by, and bring blessing to, the world." —MIN JIAYIN, Editor-in-Chief of The Chalice & The Blade in Chinese Culture by the Chinese Partnership Research Group
About the Author
 BRIAN GRIFFITH grew up in Texas, studied history at the University of Alberta, and now lives just outside of Toronto, Ontario. He is an independent historian who examines how cultural history influences our lives, and how collective experience offers insights for our future. He is the author of The Gardens of Their Dreams: Desertification and Culture in World History, Different Visions of Love: Partnership and Dominator Values in Christian History, and Correcting Jesus: 2000 Years of Changing the Story (also published by Exterminating Angel Press).
$16.95 / 336 pages / May 2012
Trade Paperback Original ISBN: 978-1-935259-14-5 /eBook ISBN: 978-1-935259-15-2
Distributed to the trade by Consortium Book Sales and Distribution: 1-800-283-3572
Media Contact: Molly Mikolowski, (612) 728-1692, molly.mikolowski@gmail.com
Exterminating Angel Press 1892 Colestin Road Ashland, Oregon 97520
Tel: (541) 482-8779
E-mail: tod@exterminatingangel.com
Visit us on the web at: www.exterminatingangel.com