by Tod Davies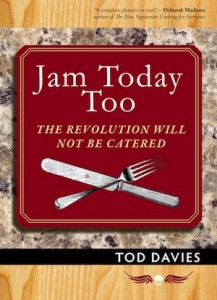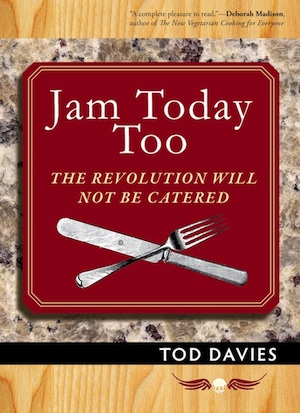 Excerpted in the December 2014 issue of Reader's Digest…
"Jam Today Too is about cooking in real life, including cooking around destructive floods (two of them), having friends drop by, working with what's there when you're miles from town or the weather turns on you, cooking for a person whose taste is quite different from your own, and all the other ins and outs of eating and cooking while living. It's a book to be savored, not read all at once, though you'll be sorely tempted."—DEBORAH MADISON, author of The New Vegetarian Cooking for Everyone
"Original and lyrical . . . Davies' relaxed and personable voice is as comforting sounding as the Tuscan Potato Soup or Cassoulet recipes she includes. . . . By sharing the specific and intimate portraits and interpretations of her daily meals, their preparation, and the people and life circumstances surrounding them, Davies allows the juxtapositions to themselves reveal some of the bigger messages of a life well-lived and shared." —Oregonian
"Tod Davies entwines food and cooking with love and life. This engaging memoir will inspire you to find your inner Julia Child." —Shelf Unbound
"[Davies] infectious enthusiasm and cheerleading make even the most difficult New American recipes accessible to the average cook. . . . Jam Today Too, a delicious bite to be savored over and over again, teaches us how to live and enjoy life one day at a time."—Shelf Awareness for Readers (starred review)
"Waiter, there's philosophy in my soup! But Tod's ruminations on life, love, disaster, friendship, and home always find their way back to real, practical advice about how to cook with what you have, wherever your kitchen may be. Laughing with Tod at her loves and disasters will make you laugh at your own, and keep cooking."—ANNA THOMAS, author of Love Soup and The New Vegetarian Epicure
"Chatty, wise, and terrifically useful, Tod Davies' second serving of Jam makes disaster delicious and success the stuff of everyday life. What a treat to read and eat."—KATE LEBO, author of A Commonplace Book of Pie
"Shift-causing in its practicality. . . . What an original voice Davies is. She's all attitude. Jam Today Too is a treatise on how to develop a sane, honest, joyful relationship with food and cooking (and good red wine)." —ForeWord Reviews
"An amalgam of life and cooking. . . . Davies gives us readers not only good cooking ideas and instructions, but also the joys and sorrows and triumphs and mistakes that go along with them
. . . serv[ing] up, in diction that reveals her genuine passion, a delicious second course of her Jam Today series." —Friends of Atticus
"A brilliant follow up to what's become one of my very favorite books about food, ever."—Nourish Me
"Absolutely wonderful . . . I dare you to read this book and not be cheered immediately. . . . It's not a book that tells you what to do or how to eat, it's a book that celebrates the pleasure of eating well your way." —Bookconscious
"Reading [Jam Today Too] feels like sitting at the kitchen counter with a glass of wine, talking with your friend while she cooks dinner." — Rose City Reader
"I'd just like a refill, please. A second cool, tall glass of Jam."—MAGGIE RUGGIERO, Food Editor/Stylist for Gather Journal
"How refreshing, a food memoir that's actually about food. No tattooed chefs. No Nordic kitchen rock stars. Just a woman facing her stove and finding out who she is through the food she cooks. Reading Jam Today Too, you just might find out who you are, too."—TORI RITCHIE, Tuesday Recipe
"These days we understand that exercise is its own reward. The effects of exercise make you want to exercise again. Cooking, when it's done regularly and so loses the 'performance' aspect, has the same kind of multiplier effect. It takes us to a place that's just being, just doing. Jam Today Too takes us to that place, between our so basic need for and love of food; and our need for and love of nourishing each other. Davies' daily inspirations about what to eat show us how home cooking becomes its own reward." —CHARLENE ROLLINS, Chef/Owner of New Sammy's Cowboy Bistro and three-time James Beard Foundation Awards semifinalist for Best Northwest Regional Chef
"Tod Davies, in Jam Today Too, teaches us how to have fun with food without throwing it. But, if you must, please throw this good stuff at me." —VERNON ROLLINS, Sommelier/Owner of New Sammy's Cowboy Bistro, one of Food & Wine magazine's "50 Most Amazing Wine Experiences"
What Booksellers Are Saying About Jam Today Too
"This lovely book is written just like a conversation you would have with a friend over a cup of coffee. Davies encourages you to simply look in your refrigerator or pantry and make dinner for your loved ones. Cooking doesn't have to be difficult and the rewards are bountiful. Jam Today Too is a reminder to me that I don't need to make dinner complicated and to enjoy the process and the end result." —SHERRI GALLENTINE,Vroman's Bookstore (Pasadena, CA)
"There are cookbooks that impose their will on the reader and intimidate their cooking instincts. This is not one of those books. Tod Davies loves food and life, and it shows in this conversation about both. For the reader who thinks food is about celebrity chefs, faux cooking warfare, and food trends perhaps you should find something else to read. For the rest of us, pull your chair up to the table, take a sip of wine and enjoy."—KEVIN GILLIES, City Stacks Books & Coffee (Denver, CO)
Read an excerpt from Jam Today Too:
 About the Jam Today series
We are what we eat. But even more, we are how we eat: how we discover our own desires and those of our loved ones, how we source the foods that fulfill those desires, how we prepare them, how we serve them. All of these seemingly small, daily decisions are the basis of everything we do, showing us who we truly are, what we need to change, what we need to aim for in the future. Food is the story we tell our bodies every day, and how our bodies and souls react to that story is the story of where we are going to go next. Food is important, thinking about it as well as consuming it—important and importantly fun, both at the same time. That's what the Jam Today series is all about—being creative in the kitchen as a step to bringing more creativity to the world around us.
"Jam Today, whose title is culled from a line in one of Lewis Carroll's Alice in Wonderland books, isn't so much a cookbook as it is ruminations on food preparation and living right."—Cascadia Weekly
"Delightful . . . written by a woman who values food, family and friends." —Shelf Awareness
"Davies's creative joy in food and the world around her is infectious." —Bookslut
"Tod Davies takes a physicist's approach to social change . . . like the minds behind a particle accelerator, her primary goal is to cause collisions." —Portland Mercury
"The spirit of M.F.K. Fisher surely hovers over [Jam Today], amused and beguiled by a cook whose prose has the same artful composure, and whose cooking possesses a similar innate sense of style." —JOHN THORNE, author of Serious Pig: An American Cook in Search of His Roots and Mouth Wide Open: A Cook and His Appetite
"Perfect . . . for foodies! It's a tough choice whether to stay curled up on the couch and keep reading or hop up and start cooking some of [Davies'] recipes."—The Homer Bookstore (Homer, AK)
 About the Author
TOD DAVIES lives with her husband, the filmmaker Alex Cox, and their two dogs, in the alpine valley of Colestin, Oregon, and at the foot of the Rocky Mountains, in Boulder, Colorado. She is the author of Lily the Silent and Snotty Saves the Day, the first two novels in The History of Arcadia series and Jam Today: A Diary of Cooking With What You've Got, the first book in the Jam Today series. Unsurprisingly, her attitude toward literature is the same as her attitude toward cooking—it's all about working with what you have to find new ways of looking and new ways of being.
 Jam Today Too: The Revolution Will Not Be Catered
$15.95 / 288 pages / June 2014
Trade Paperback Original ISBN: 978-1-935259-25-1 / eBook ISBN: 978-1-935259-26-8
Jam Today: A Diary of Cooking With What You've Got
$15.95 / 224 pages / September 2009
Trade Paperback Original ISBN: 978-1-935259-04-6 / eBook ISBN: 978-1-935259-01-5
Distributed to the trade by Consortium Book Sales and Distribution: 1-800-283-3572
Exterminating Angel Press 1892 Colestin Road Ashland, Oregon 97520 Tel: (541) 482-8779
E-mail: info@exterminatingangel.com Visit us on the web at: www.exterminatingangel.com